This Invasion of the Ukraine was brought to you by... Hillary Clinton and the Obama Administration.
Mood:
incredulous
Topic: We'll remember....
Liberals - especially those in the press - laughed and laughed at Sarah Palin when she said the Russians, not steadily opposed by the Free World, would invade the Ukraine.
Palin was right; the liberals were wrong. Again.
You'd think after being proven wrong about ObamaCare (Sarah Palin was right about the "death panels," too; at least two Americans on Medicare have been told to go home and die by Obama's Independent Payment Advisory Board, and they won't be the last), the liberals would take the cue to just shut up.
And the invasion of a staunch American ally which sent troops into Iraq and Afghanistan to help our troops after Obama's courtship of the Russians as "partners" won't shut the liberals up, either - they'll always have the last word because they control the "mainstream" press. I won't offend any readers by saying what I think that "mainstream" is made of; let's just say it would have been a barnyard metaphor.
A picture of that fatuous airhead, er, former Secretary of State Hillary Clinton with her famous "reset button" connected to nothing, posing with Russian Foreign Minister Sergei Lavrov: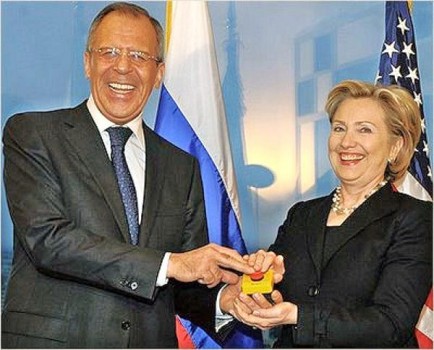 Lavrov and his staff lost not a moment after this photo op ridiculing Mrs. Clinton and her staff for using the wrong Russian word for "reset" - with hundreds of Russian linguists on the Federal payroll, some of them working for La Clinton, you'd think one of them spoke decent Russian.
But even when basically signing the death knell for democracy in Eastern Europe. the Democrats have to do it imcompetently.
I'm sure that his Self-Importantness John Kerry will find a way to finish what Hillary Clinton started, because he's shown throughout his career in politics that he never saw a Eastern crypto-fascist dictator he didn't just adore. He tried like Hell to become one in 2004, after all.
Posted by V.P. Frickey at 10:07 AM MDT
Updated: Sunday, 20 April 2014 10:33 AM MDT